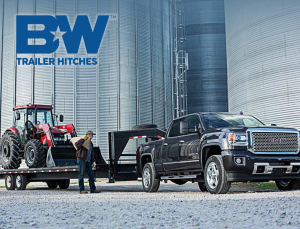 B&W Hitches
See their full product catalog…
Hitches for your:
Gooseneck towing
Fifth Wheel Towing
Bumper Towing
Farm & Ranch Equipment
Motorcycle Trailering
B&W was formed in 1987, in a small garage in Humboldt, Kansas by Roger Baker and Joe Works.
Together, they started B&W Custom Truck Beds, Inc. with the goal of building the highest quality truck beds on the market. The truck beds proved exceptional, with the custom headache racks, toolboxes, matched paint, and hand pin striping. Business grew quickly as word spread about the quality and good looks of B&W's quality beds.
Roger and Joe understood that having a gooseneck ball permanently mounted in the bed of a truck is a huge inconvenience.
Together, Joe and Roger designed a hitch with a ball that could be pulled out, turned over, and stowed beneath the bed. The mounting framework they designed bolted to the truck frame and required no welding, drilling, or bed removal to install. This new hitch, the Turnoverball, revolutionized the gooseneck hitch industry, as this type of ball storage and mounting system is used by nearly every gooseneck hitch manufacturer today.
Why B&W Hitches?
A Trailer Hitch You Can Trust
"Made in America" means more today than ever before. It's a promise about quality and dependability, not a compromise. When it comes to your trailer hitch, it's important you get that kind of promise. A guarantee. A hitch you can rely on. B&W doesn't compromise and neither should you. That's why they offer a lifetime warranty on all of their products, and commit themselves to purchasing only U.S.-made steel that is shaped into safe and durable American products.
You Depend On Them
In manufacturing, cutting costs inevitably leads to cutting corners. And low-grade steel unquestionably makes for a low-grade product. Their materials and labor don't come with a compromise, and they certainly aren't exportable to the lowest bidder.
It's not just a goal they've set for themselves, it's their guarantee. A guarantee B&W has kept now for over 25 years. And it's the reason they take such pride in hiring American workers and keeping jobs here in the U.S.
Their trailer hitches are made of steel from the American Heartland, forged in mills whose processes and specifications they know they can trust. There isn't a materials middleman. They have personally visited each of these sites, observing every phase of production from start to finish to ensure the materials they receive will turn into a quality finished product.