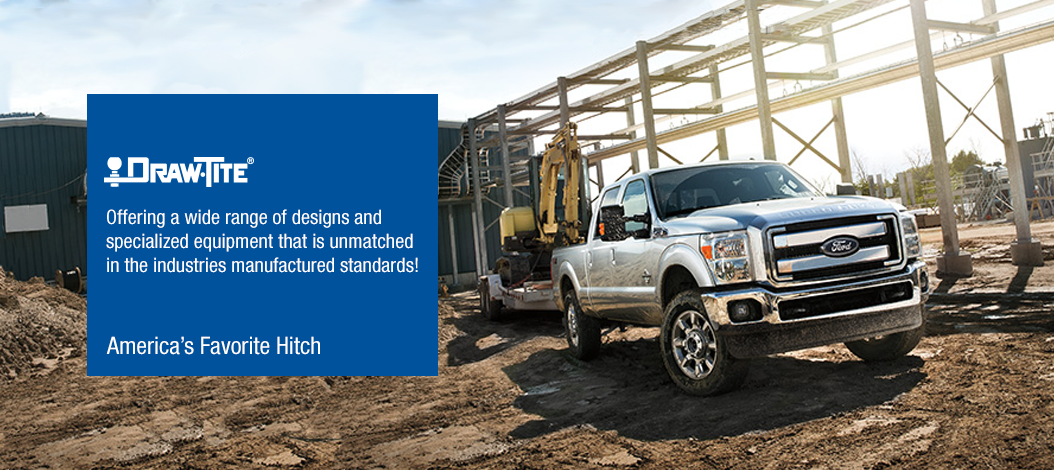 DrawTite® offers a range of products including:
Trailer Hitches
Ball Mounts
Hitch Balls
Hitch Accessories
Brake Controllers
Electrical Wiring
Weight Distribution
Gooseneck Hitches
Vehicle Accessories
Cargo Management
Trailer Couplers
Trailer Lighting
Trailer Accessories
Draw-Tite is the premier brand of custom trailer hitches. Established in 1946, Draw-Tite was born out of a passion for outstanding performance and has come to represent one of the best custom-fit vehicle products available today. Each hitch designed must pass rigorous tests to become Tested Tough™. With increased tongue weight capacity and integration of Hitch Match™, an all-new accessory pairing guide, Draw-Tite is the brand of choice for years of dependable service.
Draw-Tite provides top quality in every hitch and receiver made. Solid all-welded construction is used for maximum strength and safety. Backed by a nationwide limited lifetime warranty, the custom-built hitches are manufactured to vehicle-specific weight specifications and model year to ensure perfect fit and towing performance. Computer-aided design and fatigue stress testing are done to ensure a strong design that will withstand road abuse within specified capacities. All Draw-Tite hitches meet and exceed V-5 and SAE J684 standards and are inspected for quality and workmanship.
Aside from its technical merits, Draw-Tite is known by millions of NASCAR fans as one of the official sponsors of Team BKR – Brad Keselowski Racing. Draw-Tite has raced around the NASCAR Camping World Truck Series tracks hundreds of times on the #19 BKR truck. America's Favorite Hitch has gained even more notoriety through this exciting sponsorship.