Description
The Poly Dual Electric RVB spreaders are built for the professional snow and ice removal specialist. The Revolution Spreader line uses a heavy duty 1/2 horsepower electric motor, direct drive gear box to run the auger and a 1/3 horsepower electric motor, direct drive gear box to run the spinner. The Poly Hopper is mounted on a 304 stainless steel frame and drive support to give you a spreader that will provide you years of service. Sno-Way is known for having the best spread pattern in the industry, and the Sno-Way RVB spreaders will NOT disappoint.
ACCESSORIES
RS Control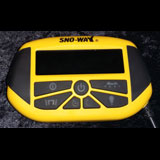 The intuitive design of the control allows the professional snow and ice removal expert to gain an advantage over competitor's units. Contractors that use the Revolution V-Box spreaders along with the RS control are able to save time, reduce wasted material and get the job done with greater profit.
RS CONTROL Allows you to adjust auger and spinner speed independently using pinwheels to increase or decrease speed of the auger or spinner.
RS CONTROL Has:
Push Button to: turn on/off vibrator or vibrators
Turn on/off optional light
Turn on/off optional wetting system
All functions can be controlled in Auto Mode
RS CONTROL Revolutionary CONSTANT DRIVE FEATURE Maintains auger speed and spinner speed to control your output as material loads change on the auger or spinner. Comparable to the cruise control on your truck, when you go up a hill your truck automatically down shifts and accelerates until you are back up to set speed, once you go downhill it will automatically up shift and decelerate until you are back to your speed setting.
RS CONTROL Revolutionary AUTO MODE SETTING Allows the vibrators to cycle on and off when needed. The system monitors the auger to make sure material is flowing through the auger, therefore when the vibrators are needed the system will turn them on, when the auger is flowing the correct amount of material the system will turn the vibrators off. Auto Mode works with the wetting system, it will maintain a predetermined flow rate, if you increase or decrease the auger speed the control will increase or decrease the amount of liquid flowing to the spinner.
All the operator has to do is drive the truck; the control will handle all the functions that are placed in the auto mode.
KEY FEATURES
Simple buttons and controls
Easy to use and understand
Increase/decrease auger independently
Increase/decrease spinner independently
Turn on and off
Turn light on and off (auxiliary light is optional on RVB line)
Turn on and off wetting system (wetting system optional on RVB line)
Turn on and off vibrator
Pause button allows you to pause all functions and resume all functions
Auto mode feature
Well lit LCD screen with auger and spinner graph display
Reversing Function